Det kreves en landsby
Et afrikansk ordtak sier "Det krever en hel landsby for å oppdra et barn".

Det sier noe om hvilke ressurser foreldre trenger for å oppdra et barn, det trengs hjelp, støtte, forståelse og kunnskap. Å få to eller tre barn samtidig gjør ikke dette behovet noe mindre, tvert imot blir "landsbyen" enda viktigere!
Allerede fra det øyeblikket det oppdages at den gravide bærer på to eller tre barn endres svangerskapet. Det er nå et risiko svangerskap fordi det er høyere risiko for at komplikasjoner kan oppstå, både for mor og barna. Mor opplever også ofte at svangerskapsplagene blir sterkere; hun er ekstremt trøtt og sliten og svangerskapskvalmen er mye sterkere bare for å nevne noe.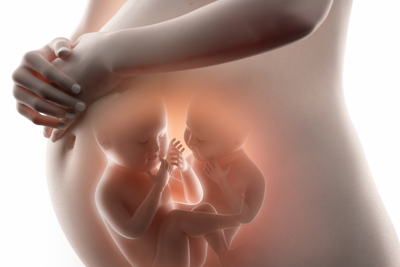 Illustrasjon: iStock
Kanskje hadde de vordende foreldrene begynt å venne seg med tanken på en familieforøkelse, når de så får vite at det er mer enn en baby på vei melder det seg mange nye spørsmål. Det er slett ikke uvanlig å bli ganske overveldet, og kanskje til og med lure på om dette er noe man i det hele tatt kan håndtere!
Tvillingforeningen kan hjelpe de vordende foreldrene med å sortere tanker og svare på spørsmål, både gjennom vårt veiledningstilbud, ulike artikler her på nettsiden vår og på vårt medlemsnett (krever innlogging). Vi har også et utvalg bøker og temahefter i vår nettbutikk som kan hjelpe både foreldre og familien rundt å forberede seg på tvillingene (eller trillingene) sin ankomst.
Fordi tvilling- og flerlingsvangerskap er risiko svangerskap er det viktig med god oppfølgning gjennom svangerskapet. Tvillingforeningen er medlem i den internasjonale organisasjonen ICOMBO, gjennom denne organisasjonen deler tvilling- og flerlingorganisasjoner fra hele verden kunnskap. Fra Twins Trust kommer informasjon om nye retningslinjer for pleiere og jordmødre som følger opp de som er gravide med tvillinger eller flerlinger:
The importance of specialist medical support when carrying multiples
Being pregnant with multiples brings extra challenges. It is important that you are fully supported and your antenatal team should be experienced in caring for women having twins or triplets. In 2021 The Royal College of Nursing (RCN) in the UK published a new standard for nursing and midwifery
staff in caring for women expecting twins, triplets or more. The role of the Multiple Births Midwife (MBM) is to co-ordinate continuity of care and support for women (their partners and families) with a multiple pregnancy.
Jane Gorringe, Maternity Engagement Project Manager at Twins Trust, said: "If more NHS Trusts employ multiple births midwives, follow the NICE multiple birth guidance, call on Twins Trust for CPD and access our Maternity Engagement quality improvement programme, it should lead to improved outcomes for mothers and babies."

It would be great to see this approach happening all around the world.
More information: Twins Trust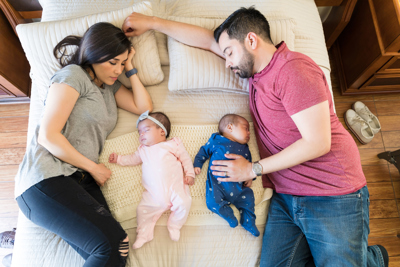 Foto: iStock
Den første tiden
I vårt Tvillingforberedende fødselskurs bruker vi en god del tid på å forberede de vordende foreldrene på den første tiden etter fødsel. For mange oppleves denne informasjonen som ganske brutal. Det er ikke fordi vi ønsker å skremme at vi er såpass ærlige om hvordan den første tiden med tvillinger kan være, men for å forberede foreldrene på at de kommer til å ha behov for hjelp. Selv om tiden med de nyfødte små selvsagt også kan være en koselig tid i "babybobla", er realiteten at foreldrene kommer hjem med to nyfødte som begge skal ha mat ca. 8 ganger i døgnet (NB: 8x2 = 16), i tillegg til bleieskift og søvnrytme som skal etableres for både foreldre og babyer. Mor er ofte sliten etter både svangerskap og fødsel, men hun skal jo gjerne amme de små likevel.

Vi vet også at det er høyere risiko for tidlig fødsel i tvillingsvangerskap, så mye som halvparten av alle tvillinger blir født prematurt, og alle flerlinger kommer til verden for tidlig. Dette innebærer at mange nybakte foreldre tilbringer den første tiden med sine små på sykehusets nyfødt intensiv avdeling. Å komme hjem fra sykehuset med de små etter en slik start kan oppleves krevende og overveldende i starten.
I denne sårbare fasen er det ekstra viktig at de ferske tvilling- og flerling foreldrene møtes av helsepersonell med god kompetanse på den unike situasjonen det er å ha blitt tvilling- eller trillingforeldre. Helsestasjonstjenesten er de som tar over oppfølgningen av familien når de kommer hjem.
Hos ICOMBO er man også opptatt av god ivaretagelse av de ferske foreldrene:
Supporting our supporters: The Elizabeth Bryan Multiple Births Centre
Did you know The Elizabeth Bryan Multiple Births Centre runs two courses for healthcare professionals to continue their professional development?
'The Individualised Care of Multiple Birth Families from Conception to One Year' is an eLearning module aimed at qualified health and social care practitioners wanting to enhance their knowledge and skills to support multiple birth families to an advanced level.
They have also just launched a brand new short course, 'Twinning Trends and Types', which aims to make a complex topic more accessible to a range of professionals. An increased understanding can help professionals more effectively support families.
More information on course content and how to enrol can be found here.
Tvillingforeningen kan tilby informasjon og kurs for helsestasjonstjenesten i Norge: For deg i førstelinjetjenesten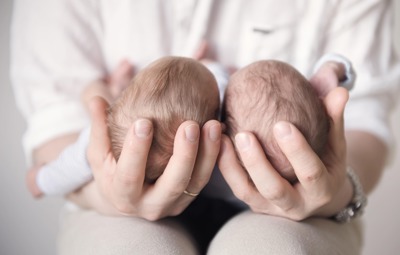 Foto: Fotografix
Our partners support us: EFCNI
We at ICOMBO can't do everything alone. Our partners play an important role in providing us with information and advocacy to help support our families. EFCNI, the European foundation for the care of newborn infants, is a pan-European organisation and network that represents the interests of preterm and newborn infants and their families. Their vision is to ensure the best start in life for every baby. They organise World Prematurity Day 2023 on 17 November and have undertaken the international "Zero Separation" campaign, which championed the benefits of Kangaroo Mother Care. This is so important since the rates of prematurity are higher for those carrying multiples. Les mer: Home – EFCNI
Supporting families during and after the loss of a twin, triplet or higher order multiples
The Skye High Foundation created the purple butterfly cot card, which is to be placed in an incubator or cot in memory of their sibling. The cot card is used in conjunction with a poster that is placed around maternity and neonatal units, which explains the meaning of the purple butterfly. The cot
card allows families the opportunity to make others around them aware of the journey they are going through.
Mer informasjon finnes også på Tvillingforeningens nettside; Når det verste skjer og Å miste en tvilling
Sjonglering av nyfødte tvillinger eller flerlinger og hvordan hjelpe familien
En vanlig utfordring for tvilling- og flerlingforeldre er søvn, både å få nok søvn selv, og å få babyene til å sove. Dette er en av årsakene til at Tvillingforeningen anbefaler at begge foreldrene er hjemme samtidig den første tiden.

I mange år kjempet foreningen for at tvilling- og flerlingforeldre skulle få utvidet fødselspermisjon, i 2018 ble dette endelig innført!
Flerbarnsukene (tvillingukene) gjør at tvillingforeldre kan være hjemme samtidig og motta foreldrepenger samtidig i en periode på opptil 17/21 uker. Dette er noe mange foreldre setter stor pris, men samtidig gjør de oss oppmerksom på at det fortsatt er behov for mer hjelp.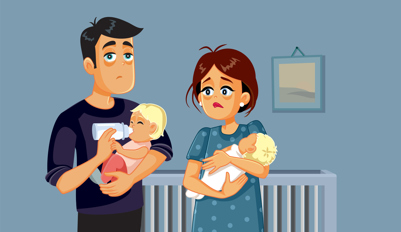 Illustrasjon: iStock
Det er dessverre også slik at tvillingmødre har større risiko for barseldepresjon enn andre mødre, den kan også komme så mye som fem år forsinket! Også fedre har behov for hjelp og støtte:
Supporting the fathers too
Most studies on parenting multiples focus on the mother but Kristiina Heinonen (an ICOMBO member and a mother of twins, living in Finland) has recently conducted a study on fathers. The aim of this study was to describe the experiences of fathers to help understand their needs for support
and also to provide guidance for midwives and nurses.
This qualitative research study recruited participants through the Multiple Births Association website. The data comprised fathers' (n = 6) diaries and/or notes and in-depth interviews. The article is sprinkled with lots of insightful quotes from the participants.
Article details: Heinonen K 2022.
Listening to the Fathers of Twins—Being Sensitive to Fathers' Needs in Maternity and Child Healthcare. Int. J. Environ. Res. Public Health 19(17): 10639.
Den økonomiske delen av det å bli foreldre til tvillinger eller flerlinger er for mange en bekymring, se bare hva startkostnaden er her. I høringsrunden etter regjeringens forslag til statsbudsjett for 2024, løftet Tvillingforeningen frem at det er kostbart å ha to eller flere barn på samme alder. Den økningen i barnetrygden som har blitt gjort i løpet av 2023 er derfor positivt, men ikke nok. Rapporten "En barndom for livet" er derfor svært interessant.
Også i våre naboland løftes de økonomiske utfordringene med flerling frem:
Highlighting our support organisations: Finnish Multiple Births Association
A key advocacy role many of our member organisations undertake is to lobby for more government support. Executive director Ulla Kumpula from the Finnish Multiple Births Association recently attended a meeting with Social Security Minister Grahn-Laasonen to put a proposal to the minister
on a raising child allowance for multiple children.
Tvillingforeningen jobber videre med å sikre hjelp og støtte til tvilling- og flerlingforeldre.
Småbarnsårene
Når foreldrepermisjonen er over, returnerer de aller fleste foreldre til arbeid, og barna starter i barnehagen, da kommer vel hverdagen på skinner?!
Mange foreldre opplever at det å komme tilbake på jobb er som en ferie, da er morgenrushet unnagjort (eller overlatt til den andre forelderen), og barna blir tatt godt vare på i barnehagen. Men om ettermiddagen er det to eller tre 1 åringer som hentes i barnehagen, de er slitne, sultne og vil bare ha forelderens oppmerksomhet, samtidig! I det fleste tilfeller må en forelder hente i barnehagen og ta ettermiddagen alene, mens den andre henter inn arbeidstid etter morgenens levering i barnehagen.
Søvn er ofte fortsatt en utfordring, både for barna og foreldrene. Etterhvert kommer "trassalderen" ganger 2 eller 3 ( eller 4!), grenser skal settes av foreldrene og utfordres av barna.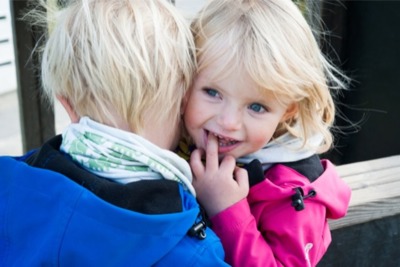 Foto: privat
Se bare hvordan en av våre søsterorganisasjoner beskriver det og hjelper til:
Twiniversity
Twiniversity is a support network for parents of twins of all ages, including toddlers. Keeping toddler twins busy and safe while trying to keep up with housework, your job, and marriage can be difficult. While the spit-up and sleepless nights are dwindling, walking twins present a whole
new set of challenges for twin parents. It can seem impossible to get anything done while your twins are awake, aside from keeping them alive.

Heldigvis kan Tvillingforeningen tilby igjen tilby sin veiledningstjeneste for foreldre, den er like aktuell når man har tvillinger og flerlinger i småbarnsårene, i løpet av året setter vi også opp ulike temakurs for å gi foreldrene litt påfyll til den krevende foreldrehverdagen. Tvillingforeningen arrangerer mammahelg hvert år, en helg der vi inviterer tvilling- og flerlingmødre til å slappe av, nyte god mat, utveksle erfaringer og få litt påfyll. Rett og slett en liten pause fra den hektiske hverdagen. Basert på etterspørsel setter vi også opp pappatreff, en kveld der tvilling- og flerlingfedre møtes til en hyggelig aktivitet eller opplevelse og kan utveksle erfaringer eller snakke om noe helt annet enn å være pappa.

Sammen eller hver for seg?
Et av de store spørsmålene i løpet av tvillinger og flerlingers oppvekst er: skal de gå sammen eller hver for seg i barnehagen og på skolen?

Det er ikke bare norske foreldre som stiller dette spørsmålet, det er felles for tvilling- og flerlingforeldre over hele verden!
Together or apart at school? Support to make decisions
Research on the placement of multiples in school is critically important. The most recent research states that the best policy is a flexible policy, where the needs of each child are evaluated prior to making the placement decision. Putting multiple birth children into separate classes requires careful
consideration. The needs of each child must be considered both as an individual and as a multiple.
No decision should be irreversible – flexibility is the key both for parents and teachers.
Drs Pat Preedy and John R Mascazine have pulled together the research and designed a website to assist parents, teachers, and school administrators with questions about how twins and multiple birth children adjust in school.
Fasitsvaret er: det finnes ingen fasit!
Hvert tvilling eller flerlingsett må vurderes for seg. For noen er det best å få være på samme avdeling i barnehagen og i samme klasse på skolen, for andre er det best å være delt. Ved barnehage- og skolestart er det derfor viktig å snakke med foreldrene for å ta den beste avgjørelsen i fellesskap. Etterhvert som barna blir eldre vil de også selv ha meninger og synspunkter som det er viktig å høre på. Husk også på at det for noen kan bli behov for å endre på beslutningen.
Tenårene
Transitioning multiples to more independent lives

The time comes, usually in their teens, when multiples leave home and go their own ways. One may be off to university and one not. The shift may be to different town/cities or even different countries. This can be extra challenging, especially when the multiples have a very close bond.
In addition, parents of adolescent twins may often feel uncomfortable about the fact that their children ́s close and harmonious relationship is about to be broken as they begin the process of detachment. They may worry that this may be a sign that their bond will be broken forever.
However, this is a natural part of multiples' development and parents should not be afraid of this detachment process.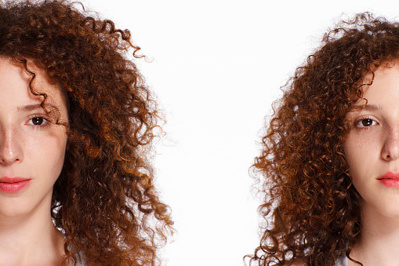 Foto: iStock
Tvillinger og flerlinger skal ikke bare løsrive seg fra sine foreldre i sitt ungdomsopprør, de skal også løsrive seg fra sin tvilling eller sine flerlinger. Det kan ofte være mer utfordrende enn å løsrive seg fra foreldrene.

Hvem er jeg uten min tvilling?
Må jeg fortelle alle jeg møter at jeg har en tvilling?
Kan jeg ha mine egne venner?
Er mine fremtidsplaner like viktig som mine flerlingers?
Spørsmålene kan bli mange for ungdommene som også skal håndtere alle endringene puberteten medfører. Det kan være utfordrende for foreldre å støtte alle barna like godt til enhver tid, og ikke minst; slippe kontrollen. Nå er det ikke bare foreldrene som trenger hjelp og støtte, men også tvillingene/flerlingene!
The importance of support network for teen multiples and their families
As well as their parent(s), adolescents need to have an additional support network and other adult role models. Meeting relatives, godparents and friends regularly, indicates to the child that many adults care about them. In some instances, getting close to a godparent/family friend and confiding
in them may be easier for both the child and the parent, at this stage of the child´s development.
In addition to adolescents in the family there may also be other emotionally demanding issues in a parent's own life, such as work stress, care of aging parents and changes in marital and parental relationships. These kind of additional stress factors will naturally cause parents to feel tired and
make daily life difficult. Living in a family with multiples can be very demanding and parents may be longing for time to themselves and for day-to-day life to become more peaceful. During these challenging times a good support network is essential for everyone in the family.
A resource to support raising teen multiples
Often people think by the time teens are in their teens there is no longer the need for support. .But it still has its challenge when for example they navigate puberty at different times and try and gain more independence, sometimes causing some tension in the twin relationship.
Did you know ICOMBO has a resource available specifically for parents of adolescent multiples? You can find all the details on or website: https://icombo.org/resources/adolescent-multiples/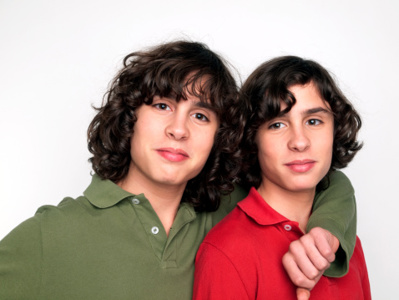 Foto: iStock
Voksne tvillinger og flerlinger trenger også støtte – relasjoner og mestring av tap
Supporting understanding of the relationship intricacies of adult twins
There are many professionals who support multiples and their families navigate the specific challenges around parenting and being a multiple.

Dr Joan Friedman is a prominent and well-respected twin expert who shares her passionate views and insights about twins and their emotional needs with twins and their families throughout the world. The fact that she is an identical twin and the mother of five, including fraternal twin sons,
makes her ideally suited to this task. Her commitment to twin research and her treatment of twins of all ages demonstrate the breadth and depth of her skills and experience. Joan has written a book about the relationship intricacies of adult twins, titled The Same but Different: How Twins Can Live, Love and Learn to be Individuals.
Supporting multiples through loss of their co-multiple
Twin loss presents a unique sense of grief for the surviving twin. Supporting someone through that loss can be challenging . Hopefully it will provide comfort for those navigating the grief. Living for Two: Twin Loss Stories by Pia Rockström (svensk tekst, engelsk versjon kommer 30. november) This book addresses the topic of twin loss through sensitive, in-depth interviews with surviving twins. The loss of one's twin presents a unique sense of grief in that twins have shared their lives with each other from their very first heartbeats, and often share a special bond. These interviews highlight this relationship between twins and the strong sense of grief experienced by the living twin when one of them dies, at any point in their lives.
Interviewees describe how they encountered grief and how they found a way forward, sharing deeply personal aspects of their lives along with photos. The title "Living for two" alludes to what many lonely twins experience, that they have been given the chance that their twin did not get, and
now must live for two. The surviving twin feels an unconscious expectation to take advantage of life and do something meaningful. Many of the twins also feel that they have their dead twin with them as a strength in life.
Pia Rockström has worked as a journalist for nearly 25 years. She is the author of two previous books. She is also a triplet who lost one of her sisters a few hours after birth.